Energy Efficient Window Solutions in Central New York
At Energy Savers Inc. of Central NY, we can help make your house feel a little more like home with our beautiful, virtually maintenance-free energy star replacement windows.
Sunrise Windows do more than just look good; they are the most technologically advanced, energy-efficient windows on the market. Each and every installation from energy wall Windows comes with a lifetime warranty and unparalleled customer service. These windows are your best choice for quality and performance, whether you're looking for replacements or new window installation.
From enhancing your home's interior to adding to its curb appeal, energy efficient windows will transform a home from ordinary to outstanding. What's more, these windows provide one of the best returns on investment of any remodeling or home improvement project.
Making the Right Choice
Adding beauty to your home should never come with compromise. Selecting new windows can be easy if you know what to look for. Always be sure that you review each product's testing information when you are comparing different window brands; otherwise, sooner than you'd think, you'll be buying replacement windows! Central NY area residents know that quality and efficiency are always our main driving forces, and we stand by the lasting durability and beauty of the Sunrise Windows brand. These products are tested by certified, independent laboratories in order to provide you with the critical information you need to make the right decision for your home improvement project.

The team of professional window installers at Energy Savers Inc. stands ready to offer the best products and outstanding service. For more information about our products, or to schedule a consultation, call us today at 315-437-3008.
Bay and Bow Windows
Our Sunrise brand windows are built to withstand strong weather. At Energy Savers Inc., our bay and bow windows are hung with the greatest of care by our family-run team of technicians. This streamlined installation process allows for the most effective energy option, so your home stays comfortable year round.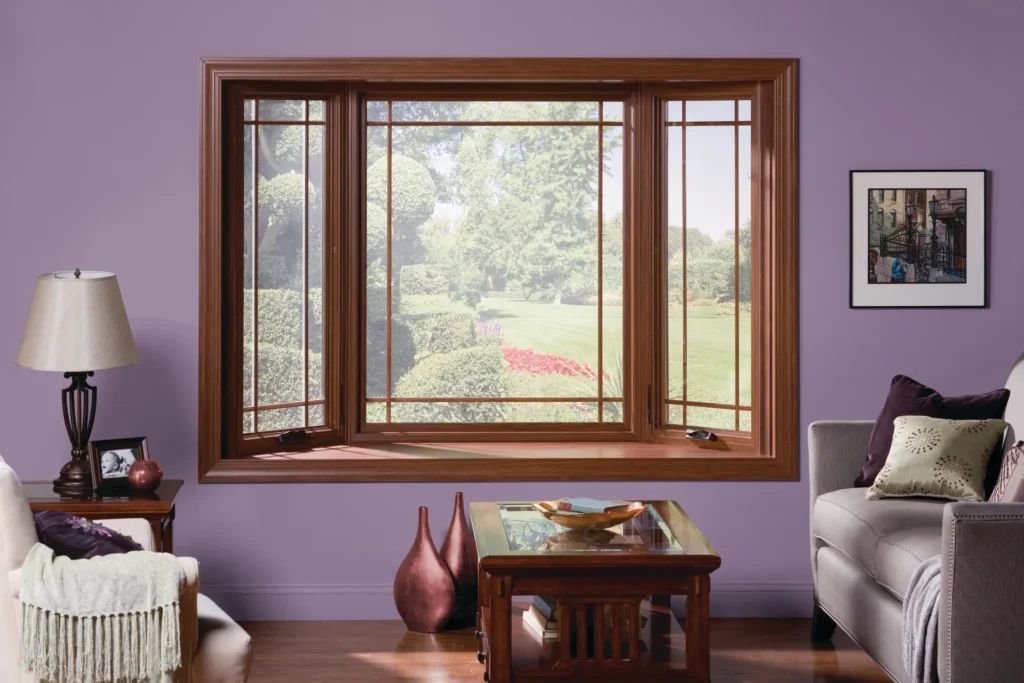 Bay Windows vs. Bow Windows
Bay window seems to have become a catch-all term for any window that protrudes from the wall structure of the home. However, there are actually two types of windows that project from the home's exterior, bay windows and bow windows. The difference between the two lies in the shape. Bay windows are square or polygonal in shape with clean, crisp lines. Bow windows, on the other hand, have a round shape, providing a distinctly unique look to the exterior of a home. Both are great options to visually add space and dimension to a home while maximizing light throughout.
The Advantages of Bay and Bow Windows
A well-placed bay or bow window can give your home personality and architectural significance. Homes that are built with varied front elevations have a classier and more interesting look than other similar homes on the block. Both bay and bow windows also add some square footage to the interior of the home and can be a neat decorative element for a window bench or reading nook.
Sunrise bay and bow windows are built with Intercept Stainless spacer system, allowing for maximum performance and insulation for your windows. BetterVUE Screen Mesh is also a standard feature, allowing for better airflow and crisper views than a standard screen while still maintaining insect protection.
Contact us today for a free energy audit. We will help you make sure that your insulation, window seals, and general air flow are working for you and your pocketbook!
Casement and Awning Windows
Casement and awning windows are unique because the hardware is fitted for the window to open out of the home's wall structure. These features give character to the exterior of the home and allow for easy crank opening and closing and a free flow of air. As always, Energy Savers Inc. can help you decide on the right windows or doors for your home and budget!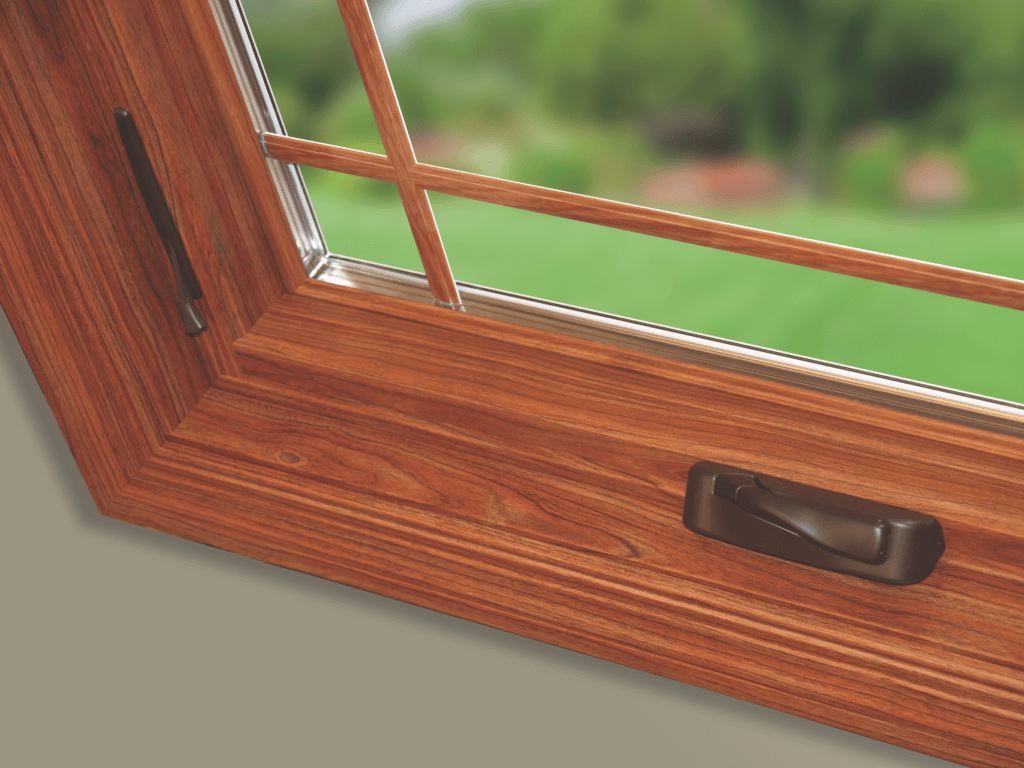 Awning Windows
Awning windows open from a hinge at the top of the window. They are great for preserving a view since the structure of the window is free of bars or panes without compromising functionality. When air and ventilation are needed, the window simply cranks open without protruding into the space of your home. Best utilized in smaller window openings, awning windows add great character and light to a home.
Casement Windows
Casement windows, which open from a hinge on the side of the window, are known for their beauty and functionality. Like awning windows, they provide an unobstructed view of the outdoors because the glass is free of panes and other structural elements. The tight seal found within casement windows offers excellent energy efficiency. The seals work similar to a refrigerator door seal, keeping the outside air out and the inside air in.
Working with Energy Savers Inc.
Contact us today. We can help your home become more energy efficient, and enhance beauty and curb appeal in the process.
Double Hung Windows
Just as our name states, Energy Savers Inc. has a strong focus on creating energy-saving solutions for homes in Central New York. The winters here are cold and damp, demanding huge energy outputs to achieve and maintain comfort. But, with a thorough free home energy audit, your home can be warm and cozy without a tremendous outlay of energy.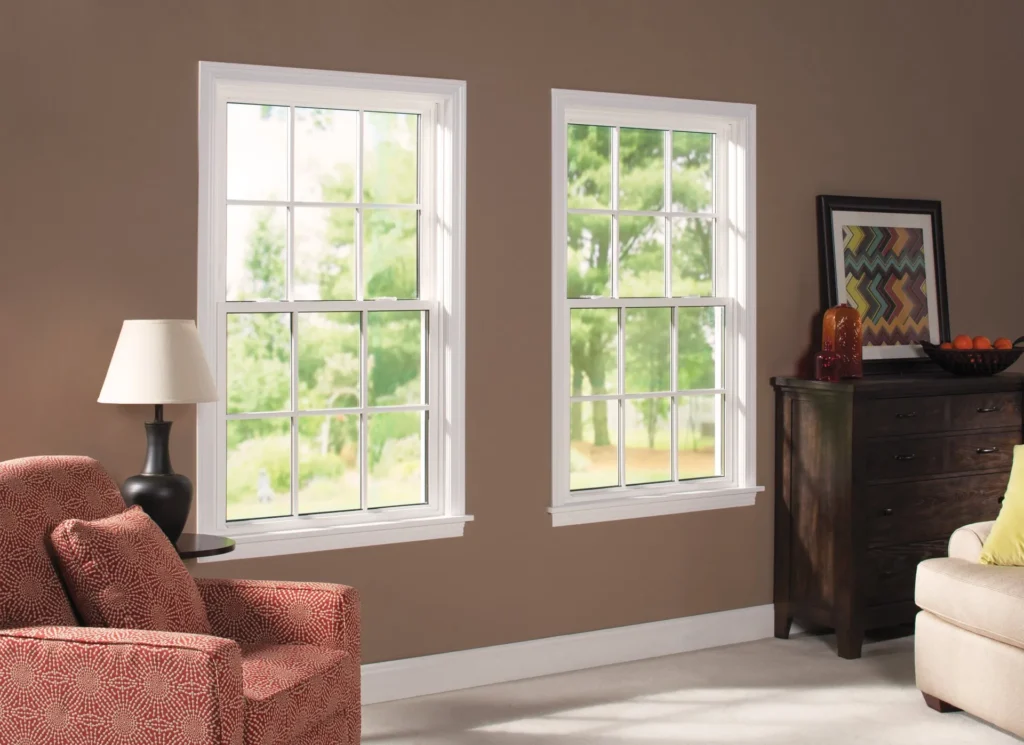 Sunrise Windows
Your windows can easily be a setback to your home's efficiency. Energy efficient double-hung windows from Energy Sunrise Windows combine the classic look of residential windows with the technology of today. The construction offers top security solutions such as the heavy-duty DualTech Locking System, which supports hundreds of pounds of static loading. Windows come with triple weather-stripping and Environmental Green frames. The windows can even lower the U-Value and increase thermal performance in your home.
Energy Efficient Double-Hung Windows
Double-hung sash windows offer traditional styling. They contain two sections of glass that overlap slightly to slide up and down the frame. With Sunrise windows, you will receive continuous over/under interlock with weather stripping to prevent air exchange throughout the entire window structure. Additionally, Innergy Rigid Thermal Reinforcements are built into each Sunrise window, creating up to 700 times the thermal performance of aluminum windows. The high-quality thermal breaks are impervious to cold or heat.
Energy Savers Inc. Promise
Energy Savers Inc. uses a team of professional window installers for each and every job. We offer quality and efficiency, and we stand by the durability of our window installations and products. Energy efficient upgrades come with many government incentives. Our sales team will help you navigate these benefits to ensure that you are not leaving money on the table. We also offer no interest financing for up to five years, allowing your family to save big on energy bills and make a substantial investment in the equity of your home.
Contact us today to personally discover the benefits of becoming an Energy Savers Inc. customer. We stand ready to perform the upgrades needed to put your Central New York home to work for you!
Sliding windows
Double Hung windows are the ideal selection for the homeowner who wants to bring the spaciousness of the outdoors inside.
Their signature narrow-line window design for maximum glass viewing area allows you to see beyond ever confined or overcrowded space in your home. You can enjoy all the beauty while guarding against the harsh elements. Also, with the unique tilt-in feature, cleaning is a breeze!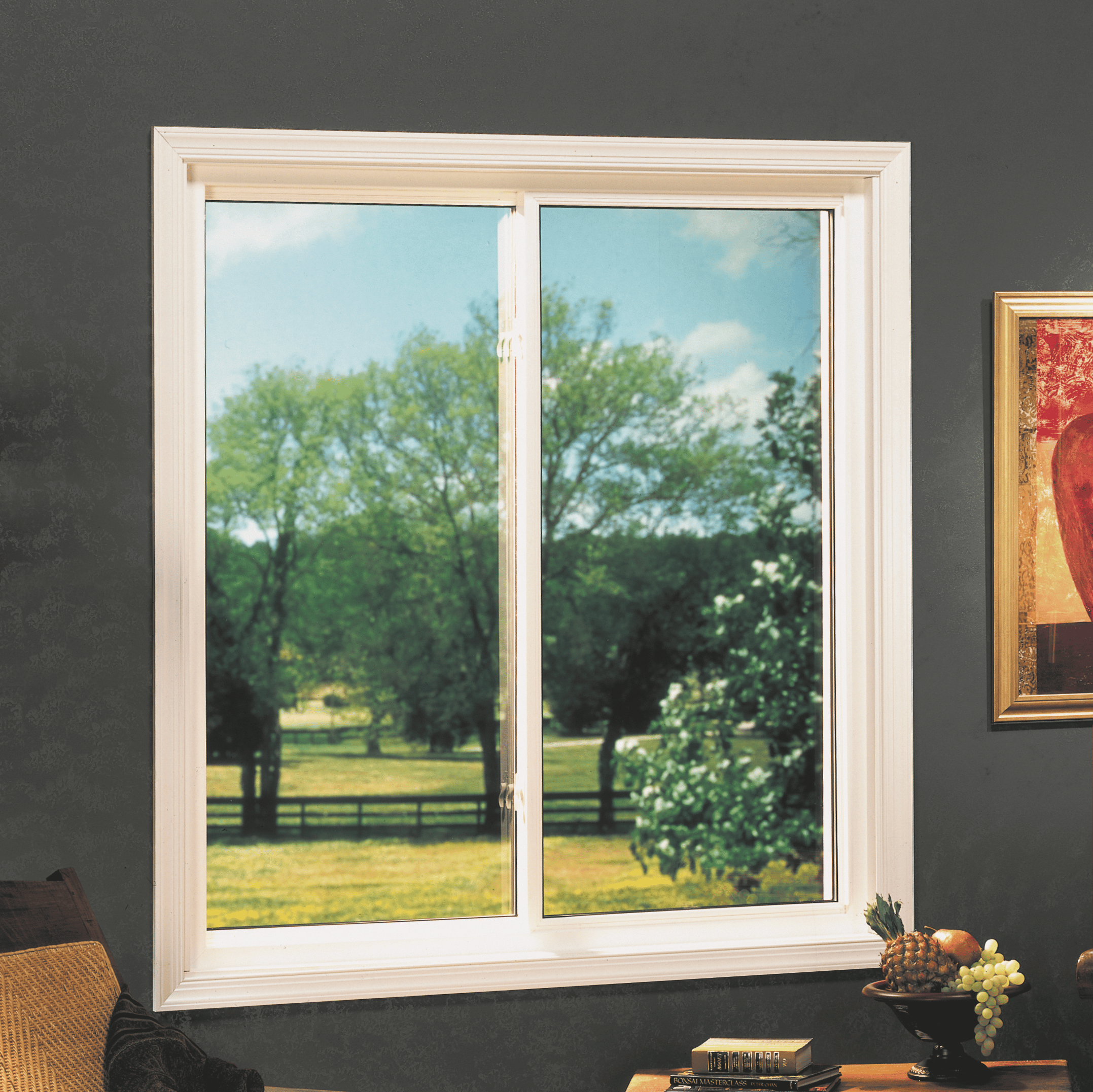 Features & Benefits
Our signature narrowline window design for maximum glass viewing area
Coved interior glazing bead for traditional design lines
Polyurethane window frame insulation provides added comfort and the ultimate in energy efficiency
Lift out sliders with dual brass rollers featuring a stainless steel axle for years of worry free performance
Enjoy added peace of mind with recessed pick resistant locks and night latches for venting
Standard sliding window provide easy, lift out sashes
Optional in-swing sash rails offer added efficiency, and can be easily cleaned from inside your home
Options
Standard Architectural Hardware:
White, Tan, Pontiac Gold on Woodgrain finishes
Optional Architectural Hardware:
Oil-Rubbed Bronze, Brushed Nickel, Antique Brass
Sun Blinds
SolarClean Self-Cleaning Glass
Insulated Glass
Full Frame Replacement
OptiView Sheer Screening
PetScreen Pet-resistant Screening
Energy Savers Inc. Promise
From a true Painter's White to fine wood finishes
Decorator Grid Options
Simulated Divided Lites
Designer Art Glass Styles
Window Options
In Central New York, the cold, wet winters demand homes to be equipped with excellent, energy efficient features. The right windows expertly installed can provide a solution to draft issues while also revamping the exterior and interior beauty of your home. Energy Savers Inc. offers a wide variety of window options to meet the needs of our customers. This includes different stylistic features that work well in a variety of home decors.
Bay and Bow Windows
Bay and bow windows provide the illusion of space to both the exterior and interior of a home. Bay windows are comprised of three windows with the center window serving as a larger feature window. Commonly, the interior of the window is fitted with a window seat to maximize space and functionality. Bow windows contain four to six evenly sized windows that are situated in a gentle arching shape. The size of the window hole and the aesthetics of the home often dictate the use of bay vs. bow windows.
Casement and Awning Windows
Casement and awning windows provide maximum glass area and can be opened fully for maximum ventilation. Awning windows open from top-mounted hinges using a crank handle system. Casement windows, however, open out into the exterior of the home from the sides and are most frequently operated by handles that fold in.
Double Hung Windows
The traditional styling of double hung windows makes them a great option for a wide variety of homes. These windows are built using two separate sections of glass with a slight overlap. They can be constructed to mimic the look of panes or be entirely void of any visual interruptions. Double hung windows open by sliding up and down the frame.
Sliding Windows
Sliding windows, also known as gliding windows, open horizontally to fully take in the landscape on the exterior of the home. These windows work best in rooms where the walls are much wider than they are tall and offer ventilation when fully opened.
With no interest and no payment for 1 year, Energy Savers Inc. financing makes this year the best year to purchase new windows for your home. Start by contacting us for a free energy audit to assess your needs and determine the right options and features for your space.
Specialty Windows
Energy Savers Inc., located in Central New York, provides custom vinyl windows and specialty replacement windows that will complement your home's beauty while saving you money. Our energy efficient windows are available in the following formats. Each window is made to fit your specific requirements and comes with an unmatched lifetime warranty.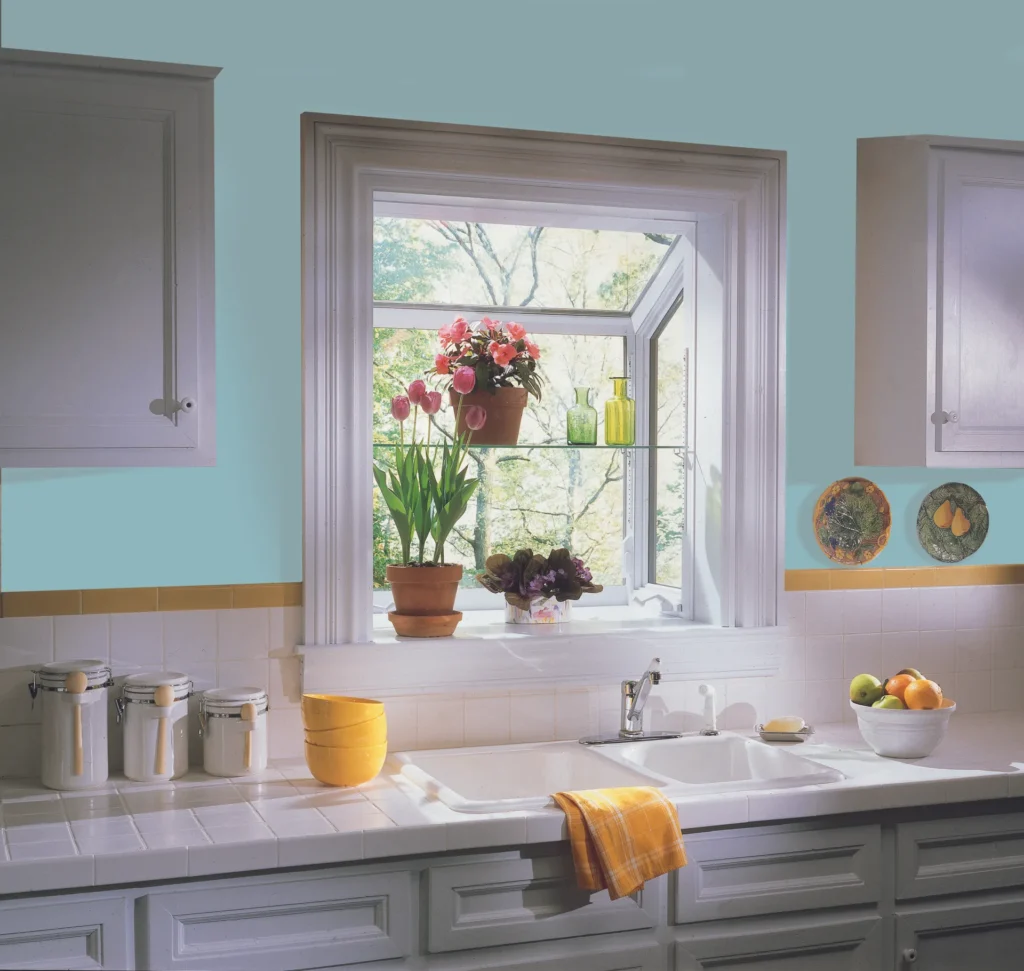 Garden Window
Our garden options are great for growing plants and flowers. They offer an energy efficient design with easily accessible handles for hassle-free ventilation. You can decide between single- or double-insulated seatboards with optional Corian or Pionite® laminate.
Projected Frame Window
With the highest quality seatboards, headboards, and side panels, you can be assured that your projected frame will last as long as you do. If you don't want to stain the interior of the window, you can add the optional Pionite® laminate, which offers increased durability. Surfaces can come in Brazilian Peca, Provincial Oak, Golden Oak, Painters White, or Colonial Cherry. With the included anti-water penetration system, you can also avoid any water damage that might occur.
Basement Window
Our window installers can install basement windows that require little maintenance and offer simple operation with their pull-in features. The triple weather-stripping seal and polyurethane frames result in superior energy efficiency windows. These windows also feature interior glazing for more appeal and pick-resistant locks for extra security.
Picture Window
Our picture windows offer a narrow layout for superior viewing and a traditional design with interior glazing bead. Like all of our options, window installation includes a polyurethane window frame insulation that provides superior energy efficiency.
Geometric Shape Windows
Energy Savers Inc.Geometric shapes are a creative way to give your house a unique and distinct look. All of our geometric shape windows are manufactured to the same quality as our picture windows. The following shapes are available: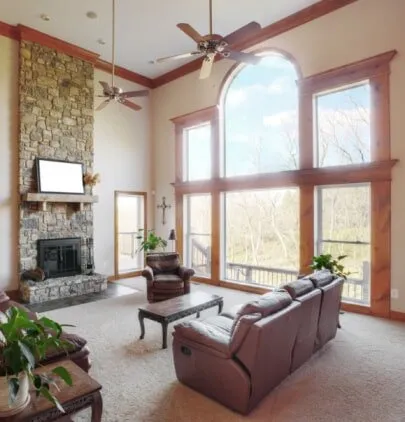 Full circle
Circle top & circle top with extended legs
Eyebrow & eyebrow with extended legs
Quarter round
Octagon
Trapezoid
Pentagon
Triangle
You can maximize the glass viewing area with a narrowline window. Polyurethane window frame insulation is available to make energy efficient windows in any of the above shapes. With the wide range of specialty replacement windows available from Energy Savers Inc. in Central NY, it's easy to find a window that complements your home's style.
Glider Windows
Gliding or sliding windows work best in spaces that are much wider than they are tall. They provide a unique landscape view of the outdoors and are useful for filling larger openings with structural elements that cause only minimal interruptions in the field of vision. Glider windows also provide excellent ventilation with panels that open fully for greater airflow during warm months.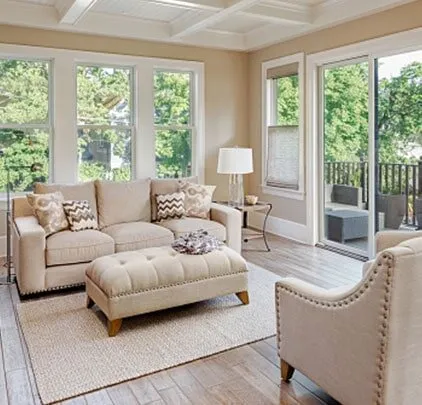 Energy Efficient Glider Windows
Glider windows from EnergyWall offer extreme efficiency and low maintenance solutions. This style of the window lets in lots of natural light and provides a way to incorporate the beautiful outdoor setting as a showpiece in your home. The EnergyWeld line of EnergyWall windows pairs insulating foam with Innergy Rigid Thermal Reinforcements to increase thermal insulation and reduce air infiltration. Additionally, the Intercept Stainless sealant acts as a moisture vapor barrier, thus maximizing thermal performance.
Upgrades and Options
Sunrisel windows are tested to ensure quality and dependability. They also come with a variety of upgrades and options, such as internal mini blinds for an allergen-free alternative that is both child and pet-friendly. There are also a variety of color, grid, and screen options to match a broad range of décors and styles.
Choose from glass upgrades like Simulated Divided Lites (SDL) which are streamlined aluminum rails that are layered on the outside of the window, giving it the traditional paned look while still allowing the benefits of modern insulation. All Sunrise windows are designed to be maintenance-free with foam-filled, multi-chamber extrusions to create strength within the main frame.
Working with Energy Savers Inc.
An EnergyStar and Building Performance Institute Accredited Home Performance Contractor, Energy Savers Inc. is known for quality construction with a keen eye on energy efficiency. We routinely perform no-cost energy audits for Central NY homes to ascertain areas of energy loss and increase whole house efficiency.
We've made a high priority of keeping our customers satisfied since our founding in 2001. We treat each customer like family and feel privileged to be a part of the process of making your house a home. Contact us today to experience the difference that Energy Savers Inc. can bring to the comfort of your home!

Call Us For Current Promotions!
Bay and Bow Windows
Casement and Awning Windows
Double Hung Windows
Sliding Windows
Window Options
Specialty Options
Glider Windows