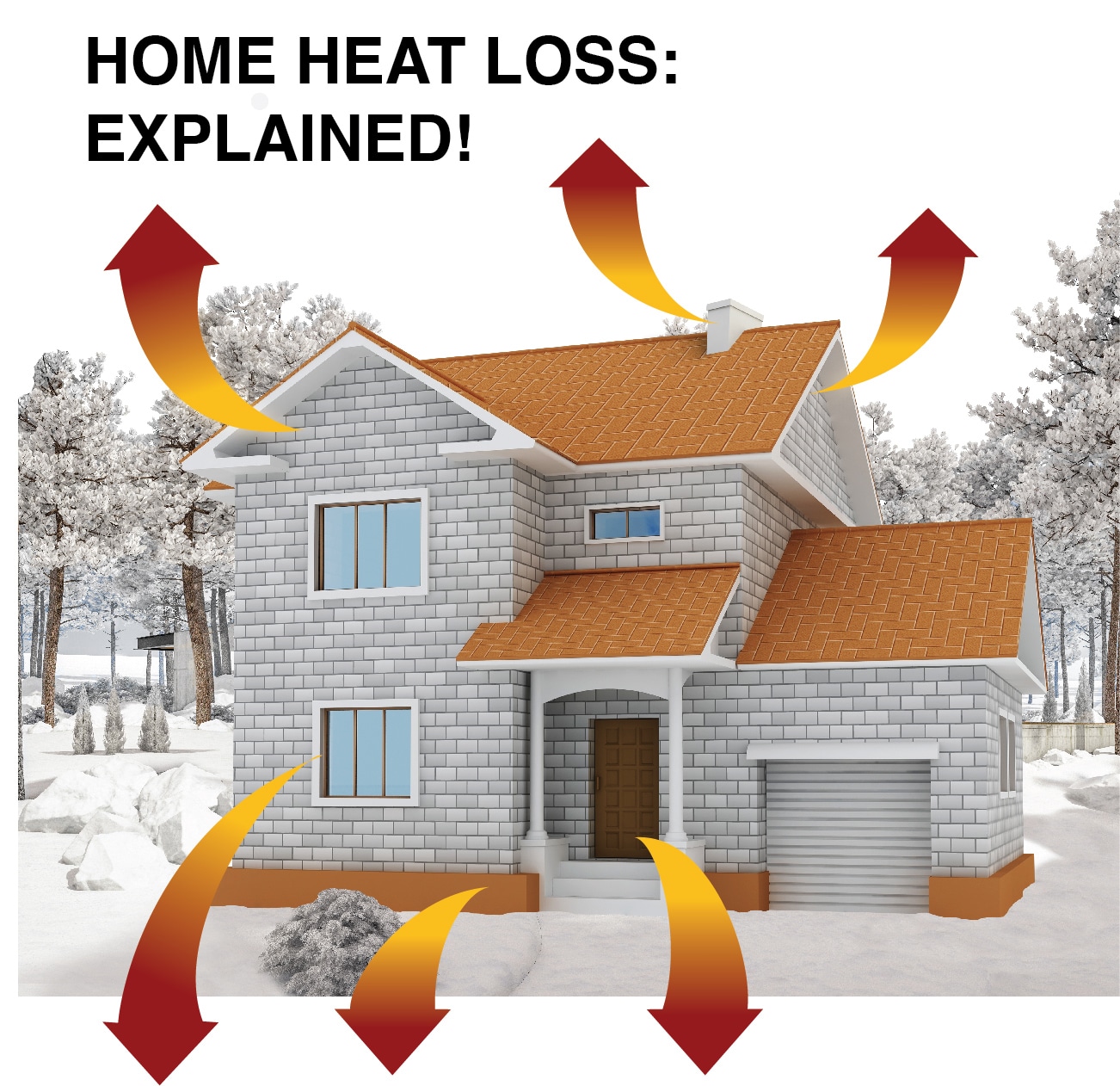 When the temperatures drop in Central New York, your furnace, boiler, or heat pump is likely cranking out heat to keep your home comfortable. You might wince thinking about the increase in your heating bill for the month, but at least it's worth it to stay warm, right?
What many homeowners don't realize is that many homes waste a considerable amount of heating energy. It's not uncommon that 30% of the energy your heating system produces—or around a third of your energy bill!—escapes your home because of air leaks and poor insulation. Today we're going to explain why heat loss happens and how to reduce heat loss in a house with new insulation and air sealing for lower energy bills and higher indoor comfort levels.
Why Does Home Heat Loss Happen?
A building often loses heat because of two things:
The difference in temperature between the inside and outside of your home. You may remember from science class, heat always wants to move to where it's cold. The colder it is outside in the winter, the more the heat inside will want to escape!
Your home lacks proper insulation and air sealing. A well-insulated home makes it much harder for heat to move through the building materials of your home. At the same time, air sealing close up cracks, holes, and air leaks that allow hot air to escape your home and cold air to enter. But if you're wondering why your home is so drafty and cold, it's likely that your home needs upgraded protection against the outdoor elements!
Where and How Is Heat Lost in a Typical Home?
Heat loss can occur almost anywhere in a home, but while every home is different and there is no one-size-fits-all solution to prevent heat loss in your house, there are some parts of your home that are more common than others to be the source of heat loss. Here are some of the usual suspects:
Ceilings, walls, and floors: Because they take up such a big area in your home, an average of 30% of air leaks comes from poorly insulated and leaky ceilings, walls, and floors. Attics and crawl spaces in particular are hot spots for energy loss.
Windows and doors: Windows and doors are another common source of energy loss. Did you know that an ⅛" gap under your door can lead to the same amount of heat loss as a 2.4" hole in your wall?
Ductwork: If your home has central ductwork, you'll want to make sure that openings in your duct joints aren't letting conditioned air escape before it ever reaches the parts of your home you want to keep comfortable! Leaky ducts can account for 15% of a home's air loss.
Plumbing and electrical penetrations: If you've had work done by a plumber or electrician since your home was originally insulated, it's common that the holes they created around electrical outlets, light fixtures, and pipes running in and out of your home weren't properly air sealed and insulated!
How Do I Find Out Where My House is Losing Heat?
If you're making an investment in your home and want to make sure that your upgrades will improve indoor comfort and reduce heat loss, you'll want to do more than just take an educated guess at where there are problems in your Central New York house. That's where a free home energy audit from Energy Savers comes into play.
Our energy audit process helps you diagnose heat loss problems through a visual inspection of the different areas of your home as well as building science testing that can include blower doors and the use of infrared cameras. With the result of your audit, you'll better understand why your house is losing so much heat and where upgrades are specifically needed. Plus, our team will walk you through any and all available insulation grants, rebates, and other incentives that can lower your upfront costs!
Learn how to prevent heat loss in your house with Energy Savers. Call 315-516-8363 or contact us today to schedule your free energy audit.